NBA Superstar Tracy "TMAC" McGrady began his offseason with a visit to Germany. He spent the first three days of his trip in Berlin, opening a top European basketball camp, the adidas EURO abc Camp and attending the "Mellowpark Jam", an inner-city event aimed at providing urban Berlin youth with the opportunity to participate in sporting activities. The last two days of his trip were spent in Herzogenaurach, the Headquarters of adidas-Salomon AG.
Tracy was part of the official opening ceremony of the adidas EURO abc Camp. The camp featured top junior players from eight countries and top international coaches from five nations. TMAC was impressed with the level of play at the camp, mentioning the Spanish Junior National Team guard, Sergio Rodriguez, specifically, "Some of these kids have got game, the point guard from Spain has definitely got a future in this sport." He worked out with the kids during a morning and an afternoon session, being both an active participant and an "unofficial coach".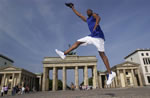 Tracy McGrady takes flight in front
of the Brandenburg Gate in Berlin
(click on image to enlarge)
The camp is part of the adidas global basketball camp network, which includes the adidas ABCD Camp in Teaneck, New Jersey. The ABCD Camp is run by basketball guru Sonny Vacarro and has been the "coming out" party for NBA stars such as Tracy McGrady, Kobe Bryant, Stephon Marbury and Jermaine O'Neal.
After Berlin, TMAC and his group went to the adidas Headquarters in southern Germany. TMAC and adidas CEO, Herbert Hainer, introduced the new T-MAC 3 (will hit retailers on November 1, 2003) to the crowd. "It is a great feeling to have your own shoe. Each year I have worked with the adidas design team to make the shoe even better. I can tell you that the T-MAC 3 is the best one yet," added TMAC. Both the T-MAC 1 (launched in January 2002) and the T-MAC 2 (launched November, 2002) quickly became the number one selling sports shoe in the US.
Then TMAC put on a basketball show for the adidas employees and the media. A three on three tournament took place at the adidas World of Sports complex. The games featured teams led by TMAC, his brother Chance McGrady and Bob Myers of TMAC's management agency, SFX.
It was TMAC's second European trip, both being in connection with adidas, as he was in Paris for the 1998 adidas EURO abc Camp. He also attended the 1999 adidas Asian Streetball Finals in Taipei, Taiwan and the 2000 adidas Asian Streetball Finals in Manila, Philippines.
TMAC and adidas signed a lifetime contract in April, 2002. The deal, which is for the duration of TMAC's basketball career and beyond, is the most significant contract adidas has ever signed with a professional athlete. "This is an unprecedented deal for adidas," stated Erich Stamminger, Member of the Executive Board of adidas-Salomon AG, responsible for Global Marketing. "Tracy is one of the most exciting and respected players in the NBA and we are impressed by his passion both on and off the court."

TMAC added, "adidas has always been a company that has supported me, as far back as high school through the ABCD Camp. This is an exciting time in my life and I am happy that adidas has the confidence in me both as a basketball player and as a person to make this long-term commitment."
Source: adidas
Related Links
» 01 Mar: adidas unveil next generation a³ shoe
» 27 Jan: NBA All-Star Tracy McGrady launches new T-MAC 2 shoe