What good is a perfect alley-oop pass if you can't get above the rim? The a³ Basketball Forefoot, featuring a³ technology, will help get you there.

Until now, most shoe technologies have been one-dimensional, offering only one benefit. They were encased in a block of foam, meaning they could not function independently, with specialization for specific functions. But a³ is different; its construction allows each piece to be tuned to a particular need. This allows a³ to offer three important benefits: It Cushions, Guides and Drives for optimal performance. Five years of research and testing went into developing a³, and it is now available for the specific needs of athletes in different sports.

Basketball players need their footwear to help them when they are jumping, cutting, or running on the court. Footwear needs to retain natural propulsion forces while providing a stable platform for transition and minimizing the pressures felt by the foot during toe-off.

The a³ Forefoot BB unit specifically addresses these needs. Each foam element is made of the highly elastic adiPRENE+, to ensure retention of energy. The Transition Plate is made of thermoplastic for durability and to distribute pressure evenly.

The a³ Forefoot shoes will retail at around £100 per pair and will be available from March 2003 throughout the UK.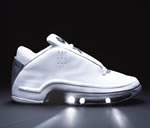 adidas a³ Basketball Forefoot shoe
(click on image to enlarge)