Following the launch of the ballers bible 'Sole Provider - 30 Years of Nike Basketball', Nike is bringing the book to life in London this May at the Sole Provider experience.
Entering the exhibition from the buzz of Brick Lane you walk through the sneaker that kick started the Nike Basketball phenomenon, The Blazer. Before the main exhibition space, author Scoop Jackson gives an emotive introduction to the book that sets the tone for all that will follow. Walking into the main arena you are met with a floor graphic that runs the length of the space. It charts the evolution of Nike Basketball and the iconic names of the sneakers themselves.
Alongside this timeline key moments in Nike's hoop history are brought to life. The story starts at the beginning with the Blazer, sitting proudly like a funk classic in an ice cold den of cool; The seminal Air Force One floats effortlessly; A gang of Dunks blaze a multi-colour trail through a collegiate map of America; We find 'bugged out' foamposites literally crawling with culture while some sexy prototype Shox spring out of floor.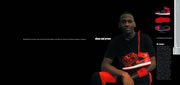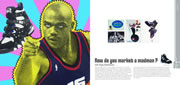 Nike Sole Provider Gallery (click on images to enlarge)
If you just came down to battle then you won't go home unscathed. The main arena space is equipped for head to head, king of the court, confrontation. Two hoops are set into a caged court area allowing one-on-one battling to be an integral part of the sole provider experience.
Adjacent to the battlegrounds are trophy cabinets displaying the sneaker silverware of a thirty year season. One-off classics, design collaborations and ephemera from the Nike archives fill a lock and key cabinet.
Central to the space and in many ways the whole story being told is the man himself, Michael Jordan. His iconic 'wings' poster stands guard over all 18 of his signature shoes. His story is told in full charting his rise from a rookie with it all to prove, to the near deity that he has became.
In addition to the live content there is a delve into the archives of Nike Basketball advertising (both print and TV), a feature on the changing face of apparel, Basketball inspired art and an immense installation that lays out every basketball sneaker that Nike have ever produced, ouch.
Sole Provider - 30 years of Nike Basketball
London, 3rd - 17th May 2003
Atlantis Gallery, Brick Lane, London, E1
For further information about the exhibition times, facilities and activities go to www.sole-provider.co.uk

Related Links
» 04 Apr: Nike announce search for champion Freestyler
» 02 Apr: Nike release Air Flight Lite
» 21 Mar: Nike launch Shox VCII shoe