After whittling down thousands of hopeful freestylers at the massively attended London and Manchester Freestyle Face Off events, basketballers Kenrick Sandy, 21 of East Ham, London and Marcquelle Ward, 19, of Longsight, Manchester and footballers Glen Walker, 16, of Northampton and Abbas Farid, 19, from Newport, Gwent will now take part in a four way televised final face off.
From nearly 30,000 entrants, the four freestylers stunned the crowd with their command of the ball to win. Now all four finalists must pit their skills against each other to battle it out to see who will be eventually crowned the "Ultimate Freestyle Champion".
The four freestyle event winners will appear on a special Nike ad on MTV base, showing the amazing and innovative skills that made them stand out from the crowd. The nation can then decide on which of the four finalists should be crowned the UK's ultimate Freestyle Champion either interactively on screen or via the website http://www.nikefreestyle.com/uk.
The adverts will be aired on MTV base from May 30th to June 14th with the winner being announced shortly afterwards. If one of the footballers wins the crown then they will get the opportunity to show off their skills at half time at either Old Trafford or Highbury and also travel to an away leg of a Champions league game with Manchester United or Arsenal. If either of the basketballers win they will travel to America to watch a live NBA game.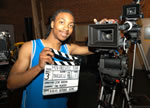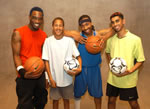 Nike Freestyle MTV Commercials Gallery
(click on images to enlarge)

Attending Manchester's event was England and Everton star, Wayne Rooney, who said, "The skills of the kids from the North West we saw tonight were fantastic. This season has been great for me but it's not so long ago I was practising freestyle skills of my own."

Also attending the Manchester event was John Amaechi, of the NBA's Utah Jazz who said, "Some of the tricks those guys were pulling off were amazing and if they carry on training and showing the skills they did today hopefully some more Brits will be joining me in the NBA."

Charlie Brooks, spokesperson for Nike UK commented, "The skills that our finalists have displayed both in the finals and in the ad are outstanding. These freestylers are becoming more innovative, creative and ambitious with the ball incorporating the music into their moves – that's exactly what freestyle is all about. I expect the results of the public vote to decide the "Ultimate Freestyle Champion" will be very close as they are all that good."

As seen in the Nike adverts with Ronaldinho and the Stickman, Freestyle is all about rhythm, attitude and stunning ball moves; it's about self -expression. It's not just about doing the tricks; it's about doing them in style.

To place your vote for the Nike Freestyle UK winner, log onto:
http://www.nikefreestyle.com/uk


Related Links
» 15 May: Manchester baller advances to televised final
» 12 May: Baller battles at kicks exhibition
» 08 May: East Ham baller advances to national Freestyle final
» 08 May: Scoop Jackson Q & A
» 04 Apr: Nike announce search for champion Freestyler