Basketball 365 teamed up with SEGA Sports and Infogrames Europe to give you the chance to win a copy of their latest basketball games release NBA 2K3, which is available now both in stores and online.

The first five people, selected by the computer, who correctly answered the question as c) Allen Iverson, will each receive a copy of NBA 2K3 for either the PS2, Xbox or Nintendo GameCube.

Those five winners are:
Bryan Murphy, Hull (PS2)
Astrid Osborn, London (PS2)
Harry Drabble, Marlborough (PS2)
Alan Fitchie, Musselburgh (PS2)
Cherie Lee, Sheffield (PS2)

Our thanks to SEGA Sports and Infogrames Europe and also to everyone who entered, and we look forward to bringing you more exciting competitions very soon!

Background
NBA 2K3 powers forward with the kind of improvement that only results from an off-season dedicated to perfection. Imagine jump shots so real players actually adjust their movement in mid-air based on distance from the hoop and defensive pressure; a passing touch that gives you the control to skirt a defender or start a fast break; and dribble moves that let you jab left, rock right, crossover, spin and much more. It's all happening in NBA 2K3.

No other game delivers the physical element of basketball like this. Accurate impact from collisions, especially hard fouls and authoritative dunks; shot blocking with emphasis on precise hand-to-ball contact; and the ability to lunge for the loose ball, even if it means ending up on some celebrity's lap.

With commentators that analyze strategy, cutscenes portraying lifelike player interaction, uniforms that move like real fabric, and a brand new ESPN broadcast system that wraps it all together, NBA 2K3 provides the complete NBA experience.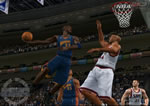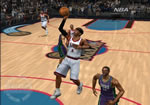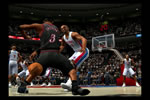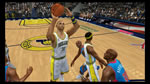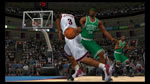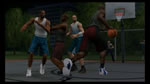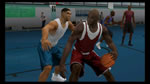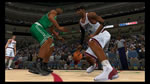 NBA 2K3 Screenshots Gallery
(click on images to enlarge)
Key Features

• ESPN Broadcast Presentation -- Replays, scores, music, and more are displayed in the famous ESPN style.

• Expanded Passing Game -- Control pass type and direction, fake a pass, and more.

• Exciting Low Post Game -- Fronting, faking, pivoting and facing up actions, and a total control drop step you can use to change direction mid-move.

• Controlled Rebounding Game -- Effectively block out opponents for a better shot at grabbing a board.

• Improved Street Mode -- Take any NBA player from any team outside for some playground action with detailed environments, animated crowds, and variable weather conditions.

• All-new Franchise Mode -- Run your team. Recruit players, hire and fire coaches, develop young players, scout foreign talent, and assess injuries.

• Advanced Animation System -- Players move naturally and appear more dynamic with increased facial detail and lifelike expressions.

• Redesigned Commentary -- More accurate play-by-play, and more in-depth stats and performance comparisons.

• Enhanced Arena Environments -- Animated crowds, mascots, and asst. coaches; more music, chants, and beats; and effects such as sneaker scuffs on the floor.

• New Steal Animations and Dribble Moves, and more than 50 new motion captured Dunks.

• Unique AI Slider Controls give you the power to truly customize your game.

• Extensive Playbooks with new plays that take advantage of teams' star players.

• Online Play -- Compete head-to-head online against players nationwide on the Xbox and PlayStation 2.
| | |
| --- | --- |
| | |
Sega Sports NBA 2K3 is available now in stores and online for PS2, Xbox and Nintendo GameCube.

© SEGA CORPORATION, 2002. THE NBA AND INDIVIDUAL NBA MEMBER TEAM IDENTIFICATIONS USED ON OR IN THIS PRODUCT ARE TRADEMARKS, COPYRIGHTED DESIGNS AND OTHER FORMS OF INTELLECTUAL PROPERTY OF NBA PROPERTIES, INC. AND THE RESPECTIVE NBA MEMBER TEAMS AND MAY NOT BE USED, IN WHOLE OR IN PART, WITHOUT THE PRIOR WRITTEN CONSENT OF NBA PROPERTIES, INC. © 2002 NBA PROPERTIES, INC. ALL RIGHTS RESERVED. ESPN IS A TRADEMARK OF ESPN, INC. ESPN BRANDED.