Utah Jazz's English forward/centre John Amaechi is back in the UK this summer and can be seen as part of Sky Sports studio team for their live coverage of the NBA Finals in June. He will also be running his annual summer camps at the Amaechi Basketball Centre beginning the end of July.

Basketball 365 gave you the chance to ask John anything you wanted about the game of basketball, and you can find out below exactly what he had to say.

You can also listen to all of John's answers (with RealOne Player) by clicking on the logo alongside each answer.
---
Tim Abbott, Nottingham
Why didn't you step in when the Giants went bust? On a lighter note, I wonder whether you support a particular football team. Stockport County would make sense but I'd be interested to know.

John Amaechi
Probably Manchester United as the football team that I would watch but that's mostly because in America, they're the one that's most on. They're associated somehow with New York Yankees I think, so they're on television in America more often.

In terms of the Manchester Giants, they were a poorly run organisation who frankly didn't give a damn about the community, didn't give a damn about the young players. They were just in there to try and make money, or try and not lose money. I don't feel any responsibility to help any of the BBL teams out really.
---
Jake Fallon, Shropshire
Hi John. What does your camp offer that others don't, for instance Chester Jets camp?

John Amaechi
This is always tough to be politically correct on, but frankly there is no comparison between a basketball camp run at the Amaechi Basketball Centre and a basketball camp run anywhere else in the world, including a concrete floor gym in Ellesmere Port. There's no comparison.

We have eight full-time staff at the basketball centre. Our junior teams are by far the best in the country and it's nothing to do with me. This is taking me out of the equation.

Our coaches are that good, our kids are that good, the centre is that good and then if you like me, there's me as well.
---
Joy, Arizona (USA)
Do you have any desire to win a NBA championship?

John Amaechi
I would love to win an NBA championship. However, I was the fat 17-year old British kid, who couldn't play basketball. So, if I don't win one, I won't feel like, with what I've done, that I've missed out too badly. I may not have reached the top of the mountain but not too bad.
---
Dave Schiller, London
How can we get other English NBA stars to put money into the game like you have back at home. There is a demand for full time facilities here and the centre you have helped build in Manchester is an obvious success - we need more of that. Maybe Kandi could finance a building in North London?

John Amaechi
There's no way of making people put money or resources or time into the community. It's something you either want to do or you don't. It's something you'll either make time for or you won't. It doesn't mean that the people who don't are bad people, at all. It just means that's not a priority for them in their life, and people have different priorities.
---
Jemima, Essex
Hello John. It's good to have you back in the UK. I've always wondered what Karl Malone says before he shoots his free throws and was hoping you could give me an insight into that?

John Amaechi
I'm not allowed to say. It's nothing that profound, put it that way.
---
James Atkinson, Fulham
Great to see you competing with the best in the NBA. What do you think is the key to reaching that level of competition day in, day out? Do you think more English kids will one day get the chance to be in the big league like yourself, considering the number of international players playing in the NBA has steadily grown over the years? Good luck and keep up the good work!

John Amaechi
Well, thank you.

I think there's no reason why British kids shouldn't be playing the NBA talent-wise, because we have as much talent, if not more than the other countries in Europe.

The difference is that our organisation, our governing bodies, our top leagues, BBL and England Basketball aren't interested in helping out. If they are, they aren't doing it the right way. They squander monies and they come up with initiatives that are just brainless. What works for young kids is facilities - indoor facilities and great coaches. That's it.
---
John Goddard, Mansfield
Your former international team-mate Peter Scantlebury, hung up his sneakers to become the full time coach of the Sharks. Have you had chance to speak to him and if so, what did you say?

John Amaechi
I have not had a chance to speak to him. I have sent a message through some other people. I think he'll be an excellent coach. I think he'll be a fantastic coach

The one thing that was I think remarkable with him really, was that at his age in basketball - he's not old in the scheme of things, but in terms of basketball - I watched him play a couple of years ago in a final at Wembley. On the floor, he was in the top two players on the floor, which tells you a lot about the British game, when you've got somebody who's been around forever. Not remarkable physical skills, much like me, but none the less one of the best players on the floor still. He gets it done.
---
Nathan Rider, Sunderland
John, you've always been an outspoken person when it comes to England Basketball. What did you make of the recent announcement that England Basketball not enter a team into the 2005 Men's European Championship plus the fiasco with visas for the Russia-England game earlier this year?

John Amaechi
To my mind, that's just more of the same.

How anybody at England Basketball can turn around to the general public, to the people who are paying them these membership fees for I don't know what service is being provided. You know, they can't turn around to anybody now and say "Oh, look at us, we're doing all the right things."

They're in many instances clueless. In many instances completely divisive and self-serving.
---
Lucy Marshall, Bournemouth
Who are your best friends in the game of basketball?

John Amaechi
Really, they are team-mates that I've had in the last couple of years, so it would be Orlando and Utah.

People like Mike Doleac, Grant Hill. On my current team probably Mark Jackson, Andrei Kirilenko and Greg Ostertag.
---
Aleksandar, Kiev (Ukraine)
I read in an interview with your team-mate Andrei Kirilenko, that you spend a lot of time on your computer when you're travelling on the road. What do you like using it for, and do you have any plans to update your website (www.meech.org)?

John Amaechi
Yes I plan on updating my website. It's being done now, we've actually got the format all set. They're just waiting for me to write some more stuff.

What I spend most of my time doing on it (computer), I write just randomly, things that occur to me. I listen to music. I have a lot of music. Every CD I have, first thing that happens is that it goes right into my computer and that's how I listen to my music now.
---
Daniel Taylor, Birmingham
With little or no mass media exposure, the game has struggled to get a foothold in UK, whilst leagues in France, Germany, Spain and elsewhere in Europe have all flourished. Do you think that this trend will soon be addressed, especially with the arrival of Keith Mair, who himself turned around the New Zealand setup in a relatively short space of time?

John Amaechi
There's nothing good about England Basketball right now.

The reason things are crap here is not because of the talent level of the kids and it's not because TV isn't watching, though that doesn't help. But TV isn't watching because they've been screwed so many times by the leagues and by England Basketball, so it's their own fault.

If they had any dignity at all, they'd just all say "my fault" and retire.
---
Amanda Stewart, Carlisle
You recently invested your money into building the Amaechi Basketball Centre in Manchester. Do you have any plans to perhaps franchise of the concept elsewhere in the UK, or are you content with the one in your home town?

John Amaechi
I'm not content with (just) the one in my home town, and probably the significance of that gym there did not strike me until I spent this week in London.

It's really strange for me because I came from Manchester where I had to fight in my own gym to get an hour's time slot to use a basket for my practise. Now, we always had games going on at night, but throughout the day packed, throughout the night packed.

Then I come to London, and I can't get a game. I can't find anybody who's playing and then if they are playing, there's like this Wednesday night thing going in London, where Wednesday night you play and the rest of the week apparently you sit around and don't do anything. It's really struck me that our capital city has nothing, and if that has nothing what about the kids in all the other outlying places in the South, in the Midlands, everywhere.

So there needs to be more facilities, but frankly my resources aren't unlimited, so I can't just go round the country plopping down millions and building buildings, but if partnerships can be worked out, and if we could maintain control of what happened there. I'm not having a facility built, slapping my name on it and then saying "do whatever you want". It has to be quality. Quality coaching. It has to be some kind of some kind of community investment in the venture, then I'd be more than willing to do more.
---
Philippe Chartres, Cholet (France)
You've played at the highest level in both Europe and the States. What is the biggest difference you've found between the game in the US and here in Europe?

John Amaechi
The game in the US is treated by the teams and the leagues as a total business. So the players are treated as commodities. Whereas I felt in Europe, although it's a business that the owners want to make money at, the players are treated more like objects that are owned, more like horses, that you need to feed them a certain amount, keep them looking clean, but apart from that they don't need much additional help.

It would be absolutely impossible to imagine in the NBA a cheque arriving late. In Europe, it's impossible to imagine, for me with my experiences, that a cheque would arrive on time, if at all. I'm still owed £300,000 from an Italian team. Cholet was about the only team that actually did pay me on time.
---
Callum Nicholson, Belfast
I'm 8 yrs old and am just starting to play the game of basketball and I love it. How can I get to be a successful basketball player like you John?

John Amaechi
Well, I think there's better people to aspire to be like than me, in terms of basketball skill.

However, in order to make it to the NBA, there's lots of different components. The major one is having an ability to practise and having someone who's not just willing, because it's not enough to be well-meaning, but have someone who's qualified to teach you what you need to know. You have to be like a sponge and totally receptive of what you have to learn.

I was lucky because I had Joe Forber and he got the job done for me.
---
Sarah Jones, Bristol
Who do you think will win this year's NBA Finals, San Antonio Spurs or New Jersey Nets, and why?

John Amaechi
San Antonio in 5, because the West Coast teams are significantly, significantly better than the East Coast teams.

San Antonio has a bench that would start for most teams in the East. In fact, for a lot of teams in the West, and they didn't even have to use them yesterday (speaking after Game 1).

Steve Smith, third best 3-point shooter in the League, didn't play. Steve Kerr, top ten in the League in 3-point shooting, didn't play. Danny Ferry, didn't play. You've got a whole bunch of better guys there who sit around and watch, until they're called upon to do damage.
---
Basketball 365
Seeing as you've been good enough to answer some questions from our site users, please feel free to close up this Q&A however you'd like John.....

John Amaechi
Just tell them to look out for the website (www.meech.org) when it's redone. By July there'll be a new website up. When people email the website, it's important they know it doesn't go to Anne, it doesn't go to Ben in Arizona, they go to me, it goes to my computer. If I don't reply it's because I get a ton of emails. However, I generally make a huge effort to get back to people. If they want to get in touch, that's the way to do it.

If they have any questions about Manchester, call. You will get Joe, or you'll get Maggie, or you'll get Anthony or you'll get Ed or one of our other staff and they'll put you in the right direction.

This is important. Laszlo (Nemeth), myself, Joe Forber - last year we had a training program that we put in. So, we had a weekend where England team members came up.

If there are England team members - whatever their level. Right now, we're doing it for boys, but we're probably going to do it for boys and girls as well. But right now, if you're on one of the Boys England teams - levels Under 16, Under 18 or Under 20. If they're on one of those teams, they need to get in touch, one way or another, even my website link is active now.

Laszlo, obviously his connection with England Basketball is tenuous at the moment. He's still one of the best coaches out there. Joe. The best fundamental coach out there. Me. Terrible coach but I'm pretty cool to hang around with for a weekend.

We're going to do it again. I'm back in the country on the 17th of July. What we're going to do is basically I'm going to take my Saturdays out or my Sundays out on certain weekends, and say if you come up, we'll use the sports hall and we'll play. We've got three courts, we'll play. So, that's what we're going to try and do.

But if they don't get in touch, England Basketball isn't exactly being helpful with me getting in touch with these kids, so that would be what I'd ask.
---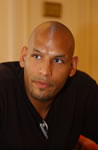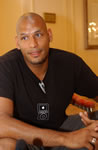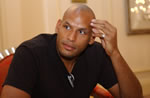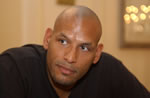 John Amaechi Q & A Gallery
Photos: AhmedPhotos.com
(click on images to enlarge)
---

Related Links
» John Amaechi Official Web Site
» Greater Manchester Youth Basketball Club

Competition
» Win a signed John Amaechi trading card