Basketball 365 teamed up with Twentieth Century Fox Home Entertainment to give you the chance to win a copy of their new DVD/video release Like Mike, available now to buy and rent in stores and online.

The first ten people, selected by the computer, who correctly answered the question as a) Lil Bow Wow, will each receive a copy of Like Mike on video plus a Like Mike wristwatch!

Those ten winners are:

Kevin Honey, Winchester
Peter Bradley, Wolverhampton
Ellen Stafford, Bath
Cristina Johnston, Glasgow
Jennifer McCormick, Liverpool
Debra Carter, Manchester
Daniel Allard, Ipswich
Tony Shorey, Rainham
Tim Warren, Croydon
Karen Ries, Leeds

Our thanks to Twentieth Century Fox Home Entertainment and also to everyone who entered, and we look forward to bringing you more exciting competitions very soon!

Background
Like Mike, the heart-warming story of one boy and his dream is release on DVD and video, slam-dunking with extras from Twentieth Century Fox Home Entertainment on May 12th. Making his feature film debut hip hop sensation Lil Bow Wow stars as Calvin a fourteen-year-old orphan who dreams of being a famous basketball player. Alongside Bow Wow stars Jonathan Lipnicki (Jerry Maguire, Stuart Little) and Brenda Song (Leave It To Beaver), who play other residents of the orphanage.
One day when a box of used clothes arrives, Calvin discovers a pair of trainers inscribed with the initials of his all time basketball hero Michael Jordan. These magical shoes transform him into a NBA superstar and with them he finds he can shoot hoops like a pro. He is quickly signed to struggling NBA team The Knights whose boss, Frank Bernard, (Eugine Levy, American Pie) believes a kid on the bench will boost much needed ticket sales. Calvin finds himself staying with star player Tracey Reynolds (Morris Chestnut) who reluctantly takes the new team member under his wing.
As the team struggles to win, Knights' coach Wagner decides to give Calvin a shot in a game and finds, to his surprise that Calvin and Tracey make a winning team. With his boundless enthusiasm and team spirit Calvin proves to be just what The Knights need to give them a chance at the playoffs.
Despite his newfound stardom, Calvin still has to cope with the scheming owner of the orphanage, Stan Bittleman (Crispin Glover, Charlies Angels) who is determined to stop Calvin being adopted and cash in on his success… Will Calvin be able to keep hold of the magic shoes? Can The Knights win the playoff? Will he and his friends finally find parents?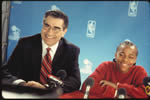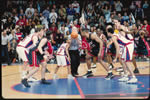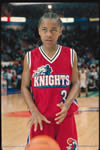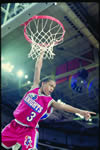 Like Mike Photo Gallery
(click on images to enlarge)
Like Mike is a heart-warming and hilarious film for all the family and is released with a net full of value-added-material including featurettes, deleted scenes and audio commentary with Lil Bow Wow, Jonathan Lipnicki and director John Schultz (Drive Me Crazy).

Basketball fans can also enjoy cameos from a selection of NBA superstars including Jason Richardson, David Robinson, Allen Iverson, Chris Webber and Alonzo Mourning.
Like Mike Official UK Website: http://www.fox.co.uk/likemike/