The world's best-known and most celebrated Basketball team - the Harlem Globetrotters, played in venues across the United Kingdom in April 2003.
Basketball 365 teamed up with Sportserve, and we gave away one family ticket (4 seats) for each of the six UK venues on the Harlem Globetrotters European Tour.
The six winning entrants who correctly answered the question as (a) Sweet Georgia Brown were as follows:

Belfast (8th April) - Holly Seymour, Tyrella

Newcastle (10th April) - Gwen Joyce , Gateshead

Glasgow (11th April) - James Wallace, Clydebank

Manchester (12th April) - John Fuller , Blackburn

Birmingham (13th April) - Andre Martin , Nottingham

Brighton (14th April) - Janice Hill, Basildon

Our thanks to Sportserve and the Harlem Globetrotters, and to everyone who entered. Be sure to look out for more exciting competitions from Basketball 365 very soon!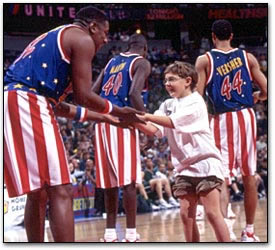 Since playing their first ever competitive games in 1927, the Harlem Globetrotters have become the world's most recognised sports team and family entertainment experience.
Their player line-up, past and present, reads like a Who's Who of all-time Legends in professional Basketball.
Now, you have the chance to see them live, as the world's most famous family show tours the UK as part of a 50 show European tour.

It's basketball and entertainment all the way, with the Globetrotters performing dazzling tricks and skills whilst their trademark tune Sweet Georgia Brown plays in the backgound.
Here is a list of all of the venues and locations at which the Harlem Globetrotters will play in April. Demand will be strong for these tickets, so you'll need to order early to avoid disappointment!

Click on the name of your nearest venue from the list below for detailed booking instructions and full location details.
12th April - Belfast, Odyssey Arena

14th April - Newcastle, Telewest Arena

15th April - Glasgow, Braehead Arena

16th April - Manchester, MEN Arena

17th April - Birmingham, The NIA

18th April - Brighton, The Brighton Centre

For further details about the Harlem Globetrotters UK Tour, you can also visit the UK Tour website at http://globetrotters.sportserve.co.uk/ or the Harlem Globetrotters official website at http://www.harlemglobetrotters.com/