Basketball 365 once again teamed up with EA SPORTS BIG™ to give you the chance to win a copy of their latest games release Def Jam Vendetta, which is available now both in stores and online.

The first five people, selected by the computer, who correctly answered the question as c) Eminem will each receive a copy of Def Jam Vendetta for either the PS2 or Nintendo GameCube.

Those five winners are:

Mark Molloy, Liverpool (PS2)
Brenda Conry, St Austell (PS2)
Matthew Gee, Lowestoft (PS2)
Anne Denham, Saddleworth (PS2)
Andy Skinner, Leeds (PS2)

Again, we'd like to thank to EA Sports plus everyone who entered, and we look forward to bringing you more exciting competitions very soon!
Background
You ready to get ya' hands dirty? Then throw on your flyest gear, round up your crew and take it to the streets – the world of hip-hop has hit the ring. Def Jam VENDETTA by EA SPORTS BIG™ invites you to the underground circuit of hardcore fight clubs. Get your props, as the master of hip-hop hook up with the urban local legends and battle for ultimate supremacy.
If you think you've got what it takes, Def Jam VENDETTA challenges you to brawl your way up the ranks to be the ultimate fighter. The game will feature an original storyline as players are challenged to test their skills through an arcade-style, underground fight club circuit as they attempt to totally crush their opponents. With each win the player will gain more money, more power and of course… more respect.
And it won't just be about winning. After all, it's about making a rep for yourself, and humiliating your opponent with killer moves. Def Jam VENDETTA will feature over 1,500 varying moves, including dozens of signature special finishing moves and trash-talkin' taunts.
The game will feature more than 10 highly detailed underground hip-hop venues, each filled with animated crowds, sick beats and pure adrenaline. More over, there will be multiple features that support a fresh mix of gameplay experiences.
In Story Mode, players will work the circuit while encountering an array of characters – both friends and foes. The story will climax when players are faced with the ultimate showdown to settle a very old and personal score with their worst enemy, the powerful D-Mob.
Players will also test their skills and determination in Exhibition Mode or choose a character and run the gauntlet, taking on all comers in Survival Mode.
Def Jam VENDETTA will also feature four match types including Single Match so you can play 1-on-1 against the computer or a friend; Tag Team play in which you and a partner can go against another two-person team; Free For All where you can jump in the ring with up to four players with no holds barred, no allies and no mercy; and Handicap where you can prove your skill by taking on two or three opponents at once.
Def Jam VENDETTA marks the first interactive entertainment title from EA and Def Jam Records, and will fully integrate a powerhouse roster of Def Jam artists into the storyline, including new hit songs from the artists, as well as classic Def Jam tracks. Each artist has contributed one original introduction and victory sequence incorporating their own voice and motion. Artists participating in the game include DMX, Ludacris, Method Man, Redman, NORE, Scarface, Ghostface Killah, Capone, Keith Murray and WC. The game also features Def Jam songstress Christina Milian and the world famous DJ Funkmaster Flex.
Developed by renowned AKI Corporation and the award-winning EA Canada creative team responsible for NBA STREET, Def Jam VENDETTA takes two cutting-edge interactive gaming teams and ties it all together with creative input from the most sought after hip hop lifestyle company of all time, Def Jam.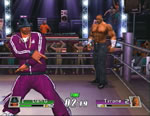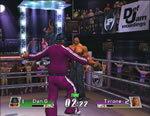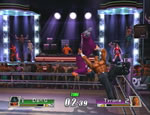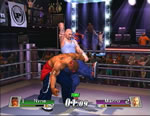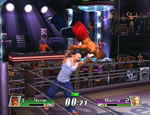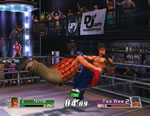 Def Jam Vendetta Screenshots Gallery
(click on images to enlarge)
Key Features

• Unique, original storyline that compliments gameplay action – the plot thickens through the circuit.

• Over 45 characters, including 12 Def Jam artists: DMX, Ludacris, Method Man, Redman, NORE, Scarface, Ghostface Killah, Capone, Keith Murray and WC. Also featuring Christina Milian and Funkmaster Flex.

• More than 10 highly detailed underground worlds, built straight from the mean streets: places like DMX's Junkyard and Scarface's Speakeasy.

• Continuous play with over 1,500 unique moves including a variety of fighting techniques (reverse kicks, punches, martial arts swings, choke holds, elbow blocks, knee bunts, etc.) and hyper realistic EA SPORTS BIG-style moves that are dynamic with realistic finesse and style.

• Dozens of signature special moves and player taunts. All moves referenced directly from each Def Jam artist.

• Unique momentum and health system that will change based on the player status (i.e. players doing well will "feel" their strength increase / evolve into a blazin' special move; and players that are getting beat will see their health impact their moves, eventually becoming slower and weaker).

• One original intro/victory sequence per Def Jam artist.

• The hottest beats from the streets: new hit songs from Def Jam Records.

• Three game modes: Battle, Story and Survival.

• Four match types: Single, Tag Team, Free For All and Handicap.

• Sound design by DaneTracks (The Matrix, 8 Mile).
EA Sports BIG Def Jam Vendetta is available now in stores and online for PS2 and Nintendo GameCube.