Apple was planning the launch of the PowerBook line with the biggest laptop screen ever (17") and the most compact full featured laptop (12"). The creative idea focused on size: big and small.

The creative team believed that a great way to dramatize the size would be to feature two famous people that are known for their size - Yao Ming (a new, hot, up-and-coming NBA talent) and Verne Troyer (famous for his portrayal of "Mini-Me" in Mike Myers' Austin Powers movie franchise).
The idea was to be very real and let the "joke" reveal itself as the spot unfolds. Big guy has little computer, little guy has big computer. They're both great and they're both unique.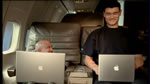 Apple - Big & Small
(click on image to enlarge)

View Apple's 'Big & Small' TV commercial:
http://www.apple.com/uk/hardware/ads/
Yao Ming Bio
Yao Ming was born on September 12, 1980. Yao started playing basketball at a young age in Shanghai, China. Before entering the pros, he improved his game at the college he attended, Shanghai Sports College. In 1997 he started playing professional basketball for the Chinese Basketball League.

In his first season, Yao learned much about the game. He averaged a so-so 10 points a game but didn't even shoot 50% from the field. Yao knew he was a better player and practiced hard to improve himself. In the 98-99 season. Yao only played 12 games, but he shot nearly 70% from the field and averaged just under 21 points a game. He improved in his weak areas from his first year.

By the time the year 2000 came around, Yao was one of the toughest and respected ballers in China. He represented China in 2000 Summer Games.

He improved in every category of statistics, but he was still not well known outside of China. After an explosive 2000-01 season, there were rumors about Yao entering the NBA draft. In the 2001-02 season, he averaged 32.4 points a game and made it to the post season. In the playoffs he went on to average 38.9 points a game in ten games. Yao Ming had conquered Chinese basketball.

Now he decided to tackle something bigger, the NBA. After much negotiation, Yao was cleared to enter the draft and when the Houston Rockets won the lottery and got first pick, they flew to China to negotiate. It was certain that they would pick Yao, and they did. Yao was thrilled to be with the Rockets, and the Rockets were thrilled to have Yao. He was recently selected by the fans as a starter for the West in the 2003 NBA All-Star game in Atlanta, GA.
Verne Troyer Bio
Verne J. Troyer, a.k.a. Mini-V, is best known for his role as
"Mini-Me", "Dr. Evil's" smaller and more concentrated pure evil protégé', in the Summer 1999 hit comedy 'Austin Powers 2 - The Spy Who Shagged Me'.

Although the thirty-one year old, 32 inch tall actor has just recently become recognized as a "Big Man in the business", Verne has been working in show business as an actor and stuntman for several years.

Troyer, born on January 1st, 1969 in Sturgis, Michigan, had always dreamed growing up of getting into showbiz. Shortly after his high school graduation in 1987 Verne moved with some friends to Arlington, Texas where in 1993 he would make his first break into showbiz as a stunt double for a 9 month old baby on a film called 'Baby's Day Out'.
The Creative Team
"Big & Small"
Worldwide Creative Director, Chairman: Lee Clow
Creative Directors: Duncan Milner, Eric Grunbaum, Erich Funke
Copywriter: Chris Adams
Producer: Cheryl Childers
Production team
Production Company: House of Usher
Director: Kinka Usher
Post-production: Nomad Edit Company
Editor: Glenn Martin
Sound Designer: Francois Blaignan
Recording Studio: Eleven Sound
Amusing anecdotes from the shoot
The shoot took place right before Yao broke out. He is still a rookie and everyone on his team was like "no way" we can't let him out of practice, we practice every single day, except Christmas and New Year's. So the ONLY way they could do it was to shoot him on New Year's Day. They found the only sober production company and crew in LA and pulled it off. Plus they held a photo shoot next door because they knew they'd only get him once. Beyond that they had an internal documentary crew roaming around on set and Yao's personal documentary crew on set as well. That's 4 productions at once, on New Year's Day. That's got to be a record!
The bit during the spot where Yao looks away with a big smile on his face… that's because Verne had just said to him "I love the leg room in first class" in Chinese. Everyone laughed so much that they nearly incorporated Verne's comment into the spot as an alt voice with subtitles!
Source: Apple UK